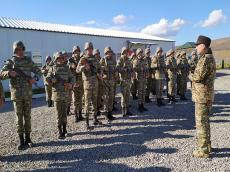 By Azernews
By Vugar Khalilov
Azerbaijan has inaugurated new military facilities in its lands liberated from 30-year Armenian occupation in 2020, the Defence Ministry reported on January 18.
The ministry carries out all the necessary activities for improving personnel's combat readiness, as well as their social and living conditions on the liberated territories, the report added.
Deputy Defence Minister and Main Logistics Department Chief Lt-Gen Nizam Osmanov opened the modular infrastructure recently built in liberated Fuzuli region.
Osmanov was informed that all the necessary needs of the military personnel were met in the modular accommodation points built in combat positions. Thus, rooms weapon, canteens, kitchens, food and clothing warehouses, bath and laundry facilities, as well as dormitories equipped with heating systems have been established in the facilities.
Furthermore, generators were deployed to ensure that the region had uninterrupted power. A vehicle park, as well as a sports area and a mini-football field, were built to help troops organize their free time. In the unit's location, landscaping work was done and various sorts of trees were planted.
Osmanov inquired about the personnel's combat and material-technical supply and wished them well in their duty. The Deputy Minister also gave relevant instructions and presented valuable gifts to a group of distinguished servicemen.
In the end, Osmanov inaugurated the new regional headquarters building of the ministry's central food warehouse. The deputy defence minister familiarized himself with the conditions created for high-level military service, as well as the procedure of collecting, storing and delivering food to troops.