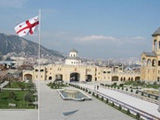 Georgian Constitution was published once again in Tbilisi in Azerbaijani language. The Constitution was published by "Tolerance" Human Rights' Protection Public Union functioning in Tbilisi.
Head of the "Tolerance" Public Union Elbrus Mammadov said that this project will create an opportunity to our compatriots to be closely familiarized with Georgian Constitution.
Mammadov said that they were planning to publish Georgia's other laws in Azerbaijani language in the future.
/
APA
/