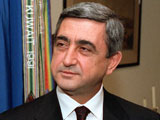 Armenian President Serge Sargsyan has accused Turkey of "destroying" a bid to normalize relations between the two countries, saying reconciliation efforts were deadlocked, the Associated Press reported Tuesday.
Sargsyan, who was in Greek Cyprus on Tuesday, said Turkey could not aspire to be a regional leader if it continued what he described as a policy of dictating and imposing its policies on its neighbors, according to Reuters news agency.
"A country that, since Armenia gained independence, closed our border on various pretexts and is trying to blackmail my people, may not aspire to regional leadership," Sargsyan told the Cypriot parliament. The Armenian leader, who is on an official visit to the east Mediterranean island, said Turkey's aspirations to be a regional leader pointed to a form of "New-Ottomanism."
Turkey and Armenia have been locked in a bitter dispute over the killings of Armenians during the fadings days of the Ottoman Empire, around the time World War I broke out.
Sarkisian told Greek Cypriot legislators in a speech Monday that Turkey's "contradictory posture, inconsistent statements and groundless manipulation of the process" had scuppered an Oct. 2009 deal to reopen the countries' shared borders.
Armenia wants the killings specifically recognized as "genocide," however Turkey says the actual death toll of the 1915 events has been inflated and those killed were the victims of civil war and unrest. Turkey also wants Armenian troops withdrawn from Nagorno-Karabakh, an Armenian-occupied Azerbaijani territory.
/Hurriyet Daily News/