A group of lawmakers from Turkey's ruling Justice & Development (AK) Party began talks in the United States on Tuesday.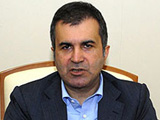 On the first day of their talks in Washington, Turkish lawmakers, led by AK Party Deputy Chairman Omer Celik, met with Turkey experts from U.S. think tank organizations.
Omer Celik informed experts about Turkey's stance on Gaza issue and Israeli raid on Gaza-bound international aid flotilla. Celik said Israel exhibited an unfair and aggressive attitude against activists on board Mavi Marmara ship.
Later, Turkish delegation had a meeting with a group of U.S. congressmen where they warned that the crisis in Turkish-Israeli relations would deepen unless Israel apologizes and supports establishment of an international, independent and credible committee to probe the Israeli attack that killed eight Turkish citizens and an American of Turkish origin on May 31.
Celik told U.S. congressmen that it would be very wrong to compare this crisis with Turkey's objection at the UN Security Council which adopted new sanctions on Iran.
He said it would mean ill-will to show these two things linked with each other, adding that Turkey's "no" vote was a result of a will to keep ways open for diplomacy and negotiation. Turkish lawmakers will continue talks on Wednesday.
/World Bulletin/