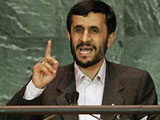 Iranian President Mahmoud Ahmadinejad said Wednesday that the new UN resolution and sanctions against his country were "not worth a penny" for Iran, according to ISNA news agency.
"This resolution is not worth a penny for Iran and I sent a message to one of them (UN Security Council members) that your resolution is like a used handkerchief which should go into a garbage can," ISNA quoted Ahmadinejad as saying.
"They (world powers) will not be able to harm us," added Ahmadinejad, who is currently on a visit in Tajikistan.
/
Trend
/