One more village of the Sabirabad region of Azerbaijan became trapped under flood waters at early morning today.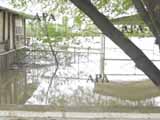 The Kur River destroyed a dam in the Ulajali village and the river waters flooded the village immediately after. The villagers were evacuated at night.  
Azada village has also been flooded as a result. The village residents were evacuated a week ago due to the flood threat. So, the number of flood-hit village in Sabirabad has reached five. Police and the Ministry of Emergency Situations officers are at the site.  Work is underway to restore the dam.
/ANS PRESS/