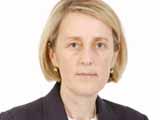 Representatives of A Call to Life Platform sent a support letter to Turkish State Minister Selma Aliye Kavaf, who reportedly defined homosexuality as a "sickness," on Monday.
Asiye Dilipak, a member of the platform, read aloud the letter, which "deems homosexuality as a threat to the continuation of human species and labels it as a corruption, and a perverse immoral and unnatural act, with references to all divine religions," in front of the Sirkeci Post Office.
The letter also stated that the good deeds of those who stand up against acts and conducts, which aim to naturalize this behavior, are wrongfully labeled as discrimination. The platform members also asked Kavaf never to give up on her cause.
Kavaf was severely criticized by many nongovernmental organizations, political parties and scholars after stating that homosexuality was a biological disorder and that homosexuals should seek treatment.
The platform comprises conservative NGOs such as the Foundation for Human Rights and Freedoms and Humanitarian Relief, or İHH; Human and Civilization Movement; Humane Values and Mental Health Association; Turkey's Voluntary Organizations Association; Civilization Society; and the Association for Human Rights and Solidarity for Oppressed Peoples, or Mazlum-Der.
/Hurriyet Daily News/