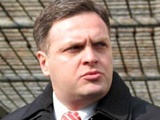 Georgian State Minister for European and Euro Atlantic Integration, Giorgi Baramidze believes in 2009 Georgia made significant steps towards integration into NATO and EU.
Today, Baramidze has submitted a report on progress in 2009 to the governmental meeting.
He said in 2009 the country carried out reforms that will enable the country to join NATO.
"The important processes were observed in cooperation with the European Union. Negotiations on visa facilitation for the Georgian citizens and the preparatory process for the commencement of negotiations on free trade and associate membership have been launched," he added.
He noted the importance of Georgia's accession to the Eastern Partnership.
Regarding 2010, he said the reforms associated with accession to NATO will continue and Georgia will send a significant military contingent to Afghanistan to participate in international peacekeeping operations. The minister also hopes to finish negotiations with EU on simplification of visa regime for the Georgian citizens and to begin negotiations on association and free trade.  
"We can say that the rumors circulated by Russia and Georgian politicians approaching it that NATO will not accept Georgia, slightly exaggerated. This is a position of bankrupt people. Georgia will not swerve from the chosen path," he said.
/
Trend News
/