Caglayan said he would bring up visa issue during his meeting with Katseli on Wednesday.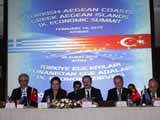 Turkish State Minister Zafer Caglayan said on Tuesday that today's economy summit in Athens had a perfect timing as it provided Turkey the opportunity to express its views on the ongoing economic crisis in Greece.
Speaking to reporters following the Turkish Aegean Coast-Greek Aegean Islands Economic Summit, Caglayan said improving the economic cooperation between Turkey and Greece would contribute to the political relations between the countries as well.
Commenting on the visa problem of Turkish businessmen, Caglayan said he would bring up the issue during his meeting with Greek Minister of Economy, Competitiveness & Shipping Louka Katseli on Wednesday.
"We are faced with this visa problem all over Europe," said Caglayan, adding that Greece needed investors under current circumstances, and therefore, it could not put obstacles before businessmen.
"Visa procedures bother the businessmen. This is a technical obstacle that hinders trade. We will display efforts to solve this issue. At least, businessmen should be given long-term & multiple-entry visas," Caglayan said.
/World Bulletin/