Iran Foreign Ministry spokesman said National Security Council and foreign policy committee is reviewing future relations with Britain.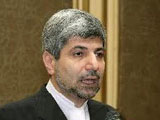 Speaking in his weekly press conference Ramin Mehmanparast said ''Iran nuclear program follows it's normal procedure and added Iran aims to activate the legal measures of it's nuclear program, we hope to achieve a realistic approach according to IAEA's framework.''
Referring to recent remarks of the US officials on necessity of transparency in Iran nuclear program, Mehmanparast said ''US official's hasty remarks and inaccurate information and concerns on Iran nuclear program are not reasonable.''
''If these countries are concern about un peaceful nuclear program they can object to Zionist regime actions, our nuclear activities are perfectly peaceful and we can answer the questions in following meetings," he added.
Foreign Ministry spokesman slammed the possible sanctions against Iran nuclear program as ''politically motivated '' adding that ''no threat can make Iran give up it's right.''
Foreign Ministry spokesman confirmed the postpone of Saeed Jalili's visit to Russia adding this is an important visit but it will happen another time due to further cooperation.
Referring to London security summit on Afghanistan Mehmanparast said Iran welcomes any meeting that promote the conditions of Afghan people.
/ILNA/