The YouTube website has posted a video material about violence inside the Azerbaijani army.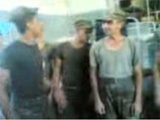 It is seen from the material that the newly recruited are beaten by other soldiers.
After this video material about possible fact of violence in the Azerbaijani army appeared, the Defense Ministry held its own investigation.
Spokesman for Azerbaijani Defense Ministry Eldar Sabiroghlu said commenting on the fact that investigation revealed no such incidents inside the Azerbaijani army.
"This is a smeary provocation against the army. This video tape is a "good" play. It seems that by wearing the military uniform and recording this on the cell phone, someone tried to create a material about violence in the army. I do not think that those who recorded it and those who posted it on the website are people, who love the Azerbaijani army", said Sabiroghlu.
The spokesman noted that if this really happened, a person, who recorded this video, should have presented it directly to the Defense Ministry. He said if the defense ministry has not reacted to it, they would have been right to post this tape for public review.
Sabiroghlu announced that it is currently not late to appeal to the Defense Ministry, if there are real facts and proofs.
"It seems that someone benefits from the provocation against the army in order to create a negative image of it. It is possible to say that violence in the army has almost been eliminated and the Ministry is operatively reacting and eliminating the problem in any negative case. It is impossible to conceal anything in Azerbaijan and if it was real, the people would have long been informed about his fact. The website, on which this material has been posted, is free and everyone can post any material on it and the authors of the provocation used it against the Azerbaijani army", said Sabiroghlu.
Wait for the video to download:
/Day.Az/