"We plan to open a memorial of friendship of Cossacks and Azerbaijanis in Azerbaijan, which is our home", said the head of Cossacks clannishness of Azerbaijan Viktor Mereshkin.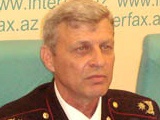 He said the memorial will be impressive and there will be a symbolic eight angled star and a large alley will pass near it.
According to him, the memorial opening will be attended by visitors from Russia and Ukraine.
"This will be not only ordinary visitors but also governors of all 11 Cossacks armed forces of Russia, as well as senior representatives of Ukrainian forces", said he.
He considers that the visitors will be glad to see the memodial.
"The thing is that many establish memorials to Cossacks but not so whole-heartedly as it is done in Azerbaijan, noted Mereshkin.
He said they plan to award orders to some participants of the event and also to President of Azerbaijan.
He noted that during the military conflicts, people try to attract Cossacks to their side, while Cossacks continue supporting Azerbaijan.
"Since the very beginning of Nagorno Karabakh conflict, they have been for Azerbaijan and said "Azerbaijan is right! We are for our brothers!"", Mereshkin concluded.
/Day.Az/