State Oil Company of Azerbaijan (SOCAR) said construction of the Baku-Tbilisi-Erzurum gas pipeline is nearing its end.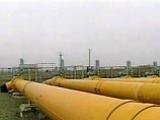 The pipeline will transport gas from the Shahdeniz field.
SOCAR added this will let Azerbaijan become a gas producing country.
The Shahdeniz gas will reportedly be transported to Turkey and then to the European markets.
Greece, Italy, Ukraine and the Baltic countries have already shown interest in the project. AzerTAg