Russia's President Vladimir Putin will meet in Athens next Monday [September 4] with Greek and Bulgarian officials for what the Kremlin describes as a session to focus on a proposed new crude oil pipeline to carry Russian crude oil from Burgas (Bulgaria) to a new tanker terminal at the Aegean port of Alexandropoulos.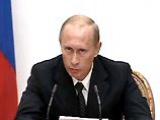 Transneft's chief executive Semyon Vainshtok and a senior Gazprom executive, possibly chief executive Alexei Miller, will also attend, the two companies told The Russia Journal.
The 285-kilometre pipeline, with a capacity to transport 1 million barrels of crude per day, and costing about $700 million, would bring Russian crude oil closer than ever before to the Suez Canal, for shipment eastwards to Indian and African buyers.
But the plan has been on the drawing boards for 13 years, while Russian interests fought among themselves to block it. The main reason for that has been the more profitable opportunities the Russian oil producers or shippers thought they could find in Turkey, or elsewhere. Transneft now concedes that its proposals have all been rejected by Ankara. According to a Kremlin statement, Transneft is now "interested" to act as the new pipeline's operator.
Since April, it has become clear in Moscow that, after years of official, but lukewarm support of the Greek pipeline, the Russian view is changing to active support. This is not because there has been a change of commercial calculation on the part of LUKoil, one of Russia's major Black Sea exporters, with big refinery and petroleum interests in Turkey and the Balkans. This time LUKoil has been sidelined, while more powerful forces, including Gazprom, Russia's most powerful enterprise, and Transneft, take the lead. For them, as for Putin, it is now possible to view the Alexandropoulos pipeline as part of Russia's global oil strategy in competition with pipeline and terminal schmes devised by the US and Turkey.
Transneft also opposed the new Greek pipeline for as long as it had hopes of getting Turkish government approval for a pipeline route from the Black Sea to the Mediterranean, parallel to the Greek route, but on Turkish territory.
However, with backing from Washington and US oil companies which prefer to concentrate on filling up the new Baku (Azerbaijan) to Ceyhan (Turkey) pipeline, Turkey has said no to Transneft. Transneft has retaliated, blocking US oil producer Chevron from increasing the volume of oil it can ship from its Kazakhstan oilfields to the Russian tanker terminal on the Black Sea, at Novorossiysk. Transneft vice president Sergei Grigoriev told The Russia Journal that the only way it will allow an increase in shipping capacity for Chevron and the Caspian Pipeline Consortium is if the extra oil can be shipped westwards across the Black Sea to Burgas, and then by pipeline to Alexandropoulos. According to Grigroriev, the limits imposed on oil tankers operating between Novorossiysk and the Bosphorus Straits — imposed by Ankara — mean that Russia wants to ensure that tanker cargoes moving through the Straits to be Russian oil, not Chevron's.
Bottling up American oil, and increasing market access through Suez to Russian oil, are the key to Transneft's change of mind — and also the reason for Putin's visit to Athens.
By John Helmer
/The Russia Journal Daily/