The Tourism and Resort Department of the Adzharia Autonomous Republic of Georgia is interested in establishment of cooperation with Azeri tourism companies.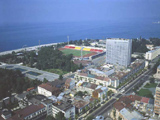 For this purpose, The Department intends to organize visit of mass media representatives of Azerbaijan to Adzharia soon.
The head of the Department Irakli Tavartkiladze says that Adzharia also intends to sign cooperation agreements with several tourism companies of Azerbaijan. Initial negotiations are currently underway with the Trek Travel, Cat Tour and Globus companies, APA reports.