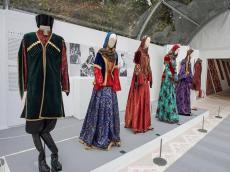 Traditional clothes in Azerbaijan have had peculiar design and fashion. For the ancient Nakhchivan clothes usually red, brown, green silvery colors predominantly used for the ancient Nakhchivan clothes. The colors in suits were selected considering each little details and fitting exactly. Though different elements of clothes suits were sewed from colorful fabrics, by all means solid and somber colors were also selected. Generally the more reach and beautiful clothes prepared by using all sewing techniques such as decoration with neaty decorative, chains and shahapasandlar, beady sewing, sewing with spiral metals, but in general, the clothes suits made a boundary between a clothes holder and environment. The sleeve of drawers was designed masterly by particularly using silver and beady fancy-work form.
Simplicity that is achieved in design
Very neaty design was made along the sewing lines of arkhalig and kulaja. For this style mainly chain ties were used. And in the sewing techniques mainly natural designs were applied. The cut of Nakhchivan clothes is simple; sleeves were cut straight. The cut of shirt and drawers and sewing technique were alike of different regions.
Only arkhalig is relatively different. The collar section of arkhalig is the same as it exists in chapkand. If arkhalig is long (it is called kulaja) it is cut on the waist, if short, it is cut wholly as it exists in chapkan, but this time a section and a fabric projection are put on the sides. The front collar of long-sleeved and oversleeved arkhaligs was very far from each other and this form arkhalig was completed with rich chestties, sarmas and necklaces etc. Chest decorations of rich women were made from jaw up to waist. In cold weather the sleeve of arkhalig was buttoned and put on kulacha over it. In order not to prevent the oversleeve was folded from the wrist up.
For this reason the oversleeves were sewed from inside. Kulacha looks like bahariya and mainly designed in Shusha and in most cases it was sewed with long-sleeves. Waist line, side seam and backside weren't designed with fancy works. The neatiness and practice of handicraft in Nakhchivan clothes predicts of a high level of technology. Some women's clothes in Nakhchivan are defended in Azerbaijan State History Museum. Although some of them are of the same name but they differ from one another for their design elements.
Arkhalig was sewed of silver coloured atlas (silken fabric) from inside. It possesses a section of 10 cm at height on the sides an a fabric projection. Sleeves are sewed straight and long. Sleeve edge and side sections are bounded with a chain. Arkhalig was sewed from colorful velvet. Inner side of the clothes is of striped of satin fabric. Sleeve is cut straight. Collar is designed with gallon along single and section but at the sleeve end with the shahpasand. Arkhalig is sewed with red, colorful brocade. Inside is of white satin. Sleeve is cut straight and length is up to the wrist. Collar, sleeve, sleeve edge, and along the section are designed with small heads, scale and golden gallon. Arkhalig shirt is sewed with a silvery inside. It is cut straight, and shoulder part remains seamless. There are pleats at 0,5 cm of depth on sleeves. Khishdak is sewed beneath under the sleeve. Arkhalig is sewed of silvery, soft fabric. Clothes suit is added a suitable colouful kerchief. Kulacha is a women clothes guilded inside the shoulder with its seasonable feature, and was popular in Nakhchivan zone. It was cut with straight sleeve, a bit down from the elbow with open collar. It is popular with rich design along sewing line layout.
Kulacha was mainly sewed from a thick velvet and tough fabrics and designed same as overdrawer's sleeve decoration. For its fashion it was designed using different fancy works techniques such as gulabatin, fanaj-work, malila, gallen, zanjira, garagoz, sarma, beady fancy work, scale, filling and so on. Kulacha is usually designed in red and brown colours. Sewed of designed fabric, waist section woman overdress. Little pleated sleeve is sewed on the waist without buttons. Sleeve is cut straight, and on the waist a little pleated sleeve is sewed.
Along the sleeved edge, little beady malila and scaled fancy-work were used at the front seams and sleeve border line. Among Nakhchivan clothes there were different drawers kinds. It is of the same fabric kulacha with 2,5 cm belt place. From another fabric a folder piece of 10,5sm is sewed on the drawers sleeve border. Sleeve of drawers is designed with a spiral silver zanjira, little beads and scales. In Nakhchivan, in simple families women used to have two kerchiefs. But in rich families a skull cap substituted under kerchief.
In simple families of Nakhchivan over gashband (kerchief) a silk kerchief was put on. The kerchief was fastened on both sides with a throatholder. Silk kerchief or fringy silk kerchief put on the clothes is folded along the diagonal, and the ends being joint at the front provides the center to be on the top. By making a little folder down the ear on the right end a perpendicular folder happens towards that end and at that point that fold forms a mouth kerchief passing under a nose passage and is thrown back from a left shoulder. In rich families a designed skull-cap or golden silver hoods were used. Kerchief was fastened on them with a special expensive pin. In such families in most cases a throat was not covered with kerchiefs but with golden hang silsilas. This time a very noble kerchief fastened on the headware or skull cap is freely thrown backside.
Nakhchivani men clothes were the same as it was in other regions of Azerbaijan, including arkhalig, gurshag, trousers, chukha, sheepskincoat, felt cloak having occupation importance, leather, felt and headgears prepared from different fabrics-cap, tashkulah, bork and so on.