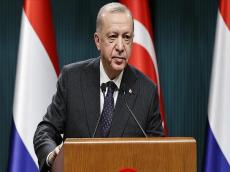 Türkiye will be at a crossroads on May 14 when the millions of voters will cast their votes to elect the president and the Parliament, President Recep Tayyip Erdogan has said, adding everyone in the region and in the world is focused on the Turkish elections.
"Clearly, all the elections are important but, the May 14 polls, both in terms of the [political] alliances [in Türkiye] and sensitivity of regional and global developments, have turned into a historical turning point," Erdogan said at an event in Istanbul over the weekend.
"This fact is seen not only by us but all those who have an assessment about Türkiye. All the evil networks, from terror organizations to global interest groups are focused on May 14," he said.
Türkiye will go to simultaneous presidential and parliamentary polls on May 14 and Erdogan is the presidential candidate of the People Alliance.
A new victory of the People Alliance will start a new era in the history of Türkiye and will prove the country's leading place in the world, Erdogan said, criticizing the oppositional alliance for allying with the terror organizations.

"I ask my people: Will there any benefit for our country from those who walk hand in hand with terror organizations?" Erdogan stated, referring to the Peoples' Democratic Party's (HDP) decision not to appoint a candidate for presidential polls so that they can support the Nation Alliance's contender, Kemal Kilicdaroglu.
Differently from the opposition, Erdogan said his sole focus is to serve the people and take care for the future of the people. "Our mere concern is not to dash the hopes of our people as well as all the oppressed [in the world]. We have no other objective than starting the construction of Century of Türkiye and keeping up its struggle for democracy and development," he stated.