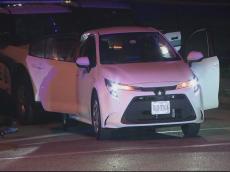 A man who was being pursued by police in the US state of Virginia shot himself while in the back of a rideshare vehicle, police said Wednesday.
The incident took place in Arlington after 8 p.m. local time, said Ashley Savage, the public information officer for the Arlington County Police Department.
Savage told Anadolu that Arlington County Police were notified of the pursuit by Virginia State Police of an individual into the county.
The police officers observed him entering a rideshare vehicle and conducted a traffic stop, said Savage.
"During that incident, the individual discharged a firearm, resulting in a self-inflicted gunshot wound," she said.
The man was transported to an area hospital and the rideshare driver was not injured.
The investigation is ongoing, said Savage.