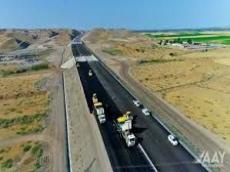 Azerbaijan plans to construct nine railway stations on Azerbaijan's Horadiz-Aghband road.
According to Azernews, the head of the construction control department of Azerbaijan Railways CJSC Tural Abbasli gave information about the bridge at a media conference dedicated to the construction of the Horadiz-Aghband railway.
He told that Azerbaijan Railways plans to commence the construction of railway stations on the Horadiz-Aghband road coming months. He noted that the layouts and documentation for the design works of nine stations have been prepared and submitted for examination.
"It's expected that in the coming months, we will begin construction of Horadiz, Marjanli, and Mahmudlu stations. And as the second and third stages are completed, Soltanli, Gumlag, Khakari, Minjivan, Bartaz, and Aghband stations will also be built," he added.
Besides that, he pointed out that one of the longest railway bridges in Azerbaijan will be built on the 110.4 km long Horadiz-Aghband railway,
According to him, the bridge will be built over the Hekari River with a width of 64,5 meters.
"Its length will be 418 meters and it will be one of the longest railway bridges in Azerbaijan," T. Abbasli said.