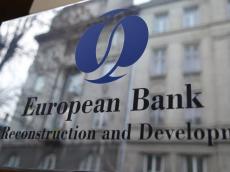 In 2022, European Bank for Reconstruction and Development (EBRD) invested 86 million euros in 9 projects in Azerbaijan, Azernews reports with reference to the bank.
Most of the projects were in the private sector, and more than 70 percent were in the framework of the green economy. Loans were given to various sectors, from renewable energy to telecommunications.
In 2022, the bank co-financed the construction of a solar power plant which is expected to generate 558-gigawatt hours (GWh) of green electricity.
At the same time, the bank reaffirmed its partnership with the Ministry of Energy for the further development of renewable energy, the implementation of the low carbon path in the sector, the improvement of the national electricity grid, the improvement of energy efficiency, the reduction of methane emissions and the gradual introduction of innovative technologies.
Within the EBRD Green Cities program, the bank financed two projects to improve the waste management system and street lighting of the city.
Logistics infrastructure has been invested in to support the resilience of Azerbaijan's supply chain and increase the transit potential of the wider Middle Corridor. The bank provided loans to a private client for the construction of energy-saving dry and cold storage facilities.
Last year, the first visit of EBRD President Odil Renaud-Basso to Baku took place. Within the framework of the visit, there were meetings with President Ilham Aliyev, ministers, diplomatic corps, heads of other international financial institutions (IMF), and existing and potential private sector clients.
EBRD Managing Director for Eastern Europe and the Caucasus Matteo Patrone looked into the future and noted.
"We are quite optimistic about our future cooperation with Azerbaijan in the field of green finance, economic inclusion, sustainable infrastructure, and digitization. The bank's cooperation with Azerbaijan in 2022 creates a very strong foundation for future cooperation."
EBRD is a leading institutional investor in Azerbaijan, where it has invested 3.6bn euros in 187 projects. The bank's strategy in the country is to help Azerbaijan diversify its economy and develop its non-oil private sector.