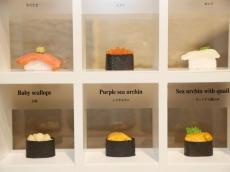 By Azernews
By Laman Ismayilova
The Stone Chronicle Museum has presented different types of sushi as part of the Japanese embassy project aimed at promoting Japanese cuisine, Azernews reports.
Sushi is a Japanese dish, which is traditionally made with white rice and seafood, such as squid, yellowtail, salmon, or tuna. The dish was introduced to Japan from overseas over 1,000 years ago.
The food has undergone multiple transformations to adapt it to the nature, climate, and lifestyle of Japan, with nigirizushi, a small mound of rice topped with raw fish or other ingredients, originating about 200 years ago in Edo.
The world exhibition "I love Sushi" explores the appeal of sushi, a popular food in Japan and around the world, through a multifaceted approach that includes ukiyo-e paintings and woodblock prints, scale figures of seafood, food samples, videos, installations, and a replica of a Japanese sushi restaurant, while also touching on parts of Japanese history and culture.
The exhibition in Baku will run until January 22.