Last year 128 million tons of cargo and 1 billion passengers were transported by transport companies and physical persons operating in the field of motor transport.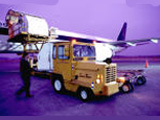 As APA reports refering to the State Statistical Committee, cargo and passenger traffic exceeded the analogous figures of 2004 by 9.2% and 4.8% respectively.
Cargo traffic by railway increased by 26.8%, by motor transport 6.6%, sea transport 3.6%, passenger traffic by motor transport increased by 4.5%, by railway 5.1%, by air 11.5%, by Metro 7.3%, and oil produce and gas transportation by pipelines increased by 2.1%.
It was told from the Committee that 57.1% of cargo traffic and 84.5% of passenger traffic was realized by transport means belonging to the private sector.