The volume of monetary incomes of population at face-value formed 34.4 trillion manats during 11 months of this year.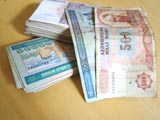 This is 26.9 or 7.3 trillion manats more in comparison with the same period of the previous year.
According to the information given to APA from the State Statistics Committee, income per person increased 25.6 % and formed 4.2 milliard manats during this period. Only in November 462.2 thousand manats of income fell to share of each person of the country and this is 96.6 thousand manats or 26.4 % more in comparison with November of the previous year.
After taxes, other compulsory payments and voluntary membership fees are paid, 32.9 trillion manats of income remained at disposal of population. 4 million manats of money fell to share of each person from these means.
71% of monetary means spent by population in January-November of this year were expended for purchasing of goods and rendering of services, 2.5 % for increasing of deposit investments, 22 % for purchasing of foreign currency, 4.5 % for payment of taxes and voluntary membership fees.