124 samples consisting of virus pathogens of the plague, anthrax, cholera and other dangerous diseases were taken to the laboratory of the Pathology Institute of the USA Armed Forces.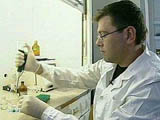 The virus pathogens were sent to Washington in the frame of the "Nunn-Lugar Programme". This was informed to journalists by the republican senator Richard Lugar who was on a visit in Azerbaijan several days ago.
Lugar informed that an agreement on sending the virus pathogens to Washington was reached during the talks with the president Ilham Aliyev in Baku. The virus pathogens were sent to Washington by a military-transport aircraft of the USA Military Air Forces. Lugar informed that this step of the Azerbaijani side is important cooperation between the governments in the struggle against spreading of the biological weapons, materials and technologies and biological terror. According to the words of the senator, removing dangerous viruses which could be used in preparation of biological weapons from the territory of the country is realized on the basis of the two-sided agreement signed between the Pentagon and government of Azerbaijan.
According to this agreement, USA and Azerbaijan will render assistance to solution of the security problem of the pathogens laboratory, and will ensure Azerbaijanis scientists' passing a probation in USA. Lugar added that the virus pathogens sent to Washington will be studied by the representatives of the Pentagon and Azerbaijani scientists concertedly.
/APA/