Our compatriots in Germany held march-rally protesting against the Resolution of Bundestag on recognizing the so-called "Armenian genocide" in the center of Berlin.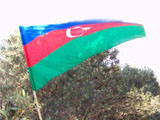 APA was told by our compatriots in Berlin. Adenauer Square ended by reading a resolution in front of "Gedaechtnis Kirche".
The protesters raised the slogans "Turkey can not be tool for the German policy","The German policy falsifies the history", "You want to use Turkey as a means for the elections? You will fail"," Parliaments are not court and the politicians are not judge","Parliament 2005.We shall vote, too" in the march which brought together most of the representatives of the Turkish community in Germany.
The resolution states :" The German parliamentarians are ignoring the facts that the terror organization "ASALA financed by Armenian Diaspora murdered tens of Turkish diplomats, one part of the territories of Azerbaijan remains under Armenian occupation, Armenian separatists are murdering ten thousands of Azerbaijani Turks in Upper Garabagh. "Armenian Diaspora is trying to prove that genocide was committed against Armenian nation in Ottoman on 1915 using the governments and parliaments of different countries as a means.
The goal is not only to punish Turkey morally. Armenians are in the intention of claiming indemnity from Turkey for this fake genocide fact. Armenia does not recognize the state borders of Turkey recognized by the world states so far, raises territorial claim against this country. Armenia did not recognize the borders of Azerbaijan in early last century either. Armed Forces of Armenia invaded one part of the territories of Azerbaijan in late century".
The authors of the resolution stated the Resolution adopted by the Bundestag has negative influence on 2.8 million voters of Turkish origin and demand the parliamentarians to take into account the position of these voters.