For realization of the project on provision by high quality potable water finances in amount of $1 bln are to be required.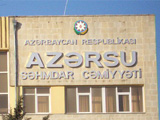 The agency Trend reports, the vice-president of the company, the chairman of merged department "Vodokanal" Etibar Mammadov said to journalists 17 May.
He said, $3bln is to be required totally, for realization of high quality water all over Azerbaijan.
"Presently "Azersu" realized 3 bln manats from 20 bln manats, envisaged in state budget of 2005 for provision of its activity", E. Mammadov noted. At that, E. Mammadov underlined 4 bln manats were allocated in 2004 for these purposes.
The company Azersu, established in the mid last year, amalgamates all structures on water supply and sewerage in the state.