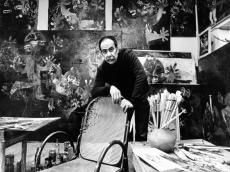 By Azernews
By Laman Ismayilova
YARAT Contemporary Art Space invites you to the next meeting within the scope of "Through the Artist's Eyes" project.
The meeting with the People's Artist of the Republic of Azerbaijan, Rasim Babayev, will be held at Museum of 20th-21st Century Azerbaijani Painting on October 23.
Rasim Babayev's son, Elnur, who has chosen to follow in his fathers' footsteps will take part in the event.
Participants will also be able to see personally the works of the great portrait painter included in the exposition of the museum.
Rasim Babayev (1927-2007) was one of the most prominent representatives of the so-called Absheron school of painting. He was an underground and non-conformist artist working outside the ideological frames of the Soviet period.
His creativity  has had a significant impact on the contemporary art of Azerbaijan.
The artists works are kept in permanent collections in Azerbaijan and abroad.
The meeting starts at 19:00. Admission is free.
Address: Museum of Azerbaijani Painting of the XX-XXI Centuries(Bayil District, near YARAT Centre)
YARAT is a not-for-profit organization dedicated to nurturing an understanding of contemporary art in Azerbaijan and to creating a platform for Azerbaijani art, both nationally and internationally. Based in Baku, YARAT (meaning CREATE in Azerbaijani) was founded by Aida Mahmudova in 2011.
YARAT is an artist-founded, not-for-profit art organisation based in Baku, Azerbaijan, established by Aida Mahmudova in 2011. YARAT (which means 'create' in Azerbaijani) is dedicated to contemporary art with a long-term commitment to creating a hub for artistic practice, research, thinking and education in the Caucasus, Central Asia and surrounding region.
It comprises of  YARAT Art Centre, ARTIM Project Space, YARAT Studios, YAY Gallery and an extended educational and public programme. YARAT Art Centre, a 2000m² converted Soviet-era naval building, opened in March 2015 and is the organisation's main exhibition space.
Education has been at the heart of YARAT's activities since its creation. With a dedicated public
programme that includes courses, workshops, lectures, screenings, festivals, literature and theatre clubs and family weekends, YARAT aims to give access to broad audiences of all ages.
Located on the National Flag Square, Museum of 20th-21st Century Azerbaijani Painting was
founded by the Heydar Aliyev Foundation. The Museum was inaugurated in June 2015 by the
President of Azerbaijan, Ilham Aliyev and the First Lady Mehriban Aliyeva.
It presents works by both prominent and lesser-known Azerbaijani painters from State Collections, such as the National Picture Gallery and the Museum of Modern Art.