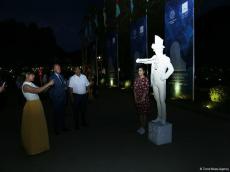 By Azernews
By Laman Ismayilova
Guests of the 10th Gabala International Music Festival enjoy incredible living statues and mimes.
Living statues are hand crafted performance pieces providing a quality interactive visual experience.
The tableau vivant, or group of living statues, was a regular feature of medieval and Renaissance festivities and pageantry, such as royal entries by rulers into cities.
A living statue appeared in a scene of the 1945 French masterpiece film Les enfants du paradis (Children of Paradise), and early living statue pioneers include the London-based artists Gilbert and George in the 1960s.
Today living statues  are very popular in the cities of Europe. They are posing on the main streets in order to deceive people, pretending to be a statue, most often causing a smile and curiosity among passers-by. This is a very interesting and challenging role, try to stand for a couple of hours in the same position! People who are engaged in this must have not only patience, but also be artistic, because once a passerby throws a coin into the mime's hat, he must play a small sketch to entice other passers-by.
But in Gabala you do not need to throw coins, you just have to touch them and they instantly come to life.
The festival, organized by the Heydar Aliyev Foundation and Gilan Holding, runs from July 30 to August 7 in Gabala.
The guests are presented an interesting and diverse program with the participation of well-known singers, musicians and conductors from Azerbaijan, Russia, Israel, the U.S., Italy, Austria, Switzerland, Spain, Hungary, Georgia, Israel, Turkey, Cuba and other countries.