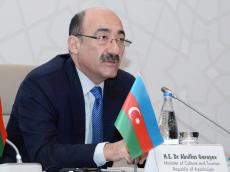 By Azernews
By Aygul Salmanova
It is necessary to deepen the knowledge and abilities of museum workers, make wider use of innovations in museum business in Azerbaijan said the Minister of Culture and Tourism Abulfas Garayev at a meeting on the work of the capital's museums on December 11.
The minister reminded that the number of tourists coming to Azerbaijan is growing every year.
Museums play an indispensable role in the effective organization of leisure both for the local population and foreign tourists, as well as for the promotion of the cultural heritage of Azerbaijan, the minister believes.
Garayev believes that in order to attract the population of the country and tourists to museums there must be a system activity.
"A number of museums have already concluded contracts with travel companies. Work in this direction should continue. The world continues to develop, so we must keep pace with the times, using modern technological capabilities. Very properly set up work of internet sites, the promotion of the work of museums with the active use of social networks. It is also necessary to strengthen the propaganda work to increase the interest of citizens and foreign visitors to museums. It is also important to increase the knowledge of museum guides," he explained.
Garayev said that most museums have all the conditions for setting up work at the level of modern requirements: "Using these conditions correctly, we need to involve people in museums."
Museums, material and spiritual treasures, embodying certain moments in time, telling about the distant and near past, are the best bridge and guide between generations and periods of history.
Museums in Azerbaijan trace their origins back to the 1920s. The first museum called "Native Land" was established in 1920 in Baku, and the first memorial museum was established in 1938 in Sheki. In that period of the history museums kept works of art confiscated from millionaires and aristocrats. The first exhibits of the national museums were valuable works of art belonging to such Baku millionaires as Z.Tagiyev, M.Mukhtarov, and M.Nagiyev.
Since the first quarter of the last century, museums of literature, art, history, music, theater, as well as home museums have been created.
Currently, there are 212 museums in Azerbaijan; 13 of them are museums of art, seven are literature and 13 are history museums. There are 68 historical and local lore museums and six museums of military glory. The number of museum houses reached 46.
The largest museums in Azerbaijan are the National Museum of History, the National Museum of Literature, the National Museum of Art, the Azerbaijan State Museum of Carpet and Folk Applied Arts, the State Museum of the Theater, the State Museum of Musical Culture, the Museum of Independence and others.
Unusual buildings, monuments, caves and temples, towers - are called open-air museums. Such museums are the Palace of Sheki khans, Gobustan rocks, the Palace of Shirvanshahs, the mausoleum of Mominakhatun, and also the city of Shusha.