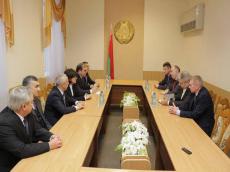 By Azernews
By Laman Ismayilova
Azerbaijan's Mingachevir and Belarusian Polotsk seek to establish stronger cooperation.
Cultural and economic contacts between cities continue to develop as both the sides show mutual intention and interest.
In this regard, Head of Mingachevir Executive Authority Niyazi Bayramov visited Polotsk city, where the sides inked a Protocol of Intent on cooperation between the two cities.
Among the priorities outlined in the document were business contacts, trade and tourism encouragement, exchange and cooperation in education and culture.
During the meetings held in Polotsk, the sides discussed the issues on creation of joint production enterprises development of economic, cultural, scientific and technical cooperation as well as expansion of cooperation in the fields of sport and tourism.
Azerbaijani Mingachevir and Belarusian Polotsk became twinned in 2012.
Mingachevir, the fourth largest city in Azerbaijan by population, was founded in the late 40s, early 50s of the 20th century.
Despite the fact that Mingachevir is a young city, archeological excavations that took place here have shown that the earliest human settlements at this place existed in the VI century BC – III century BC.
The Kura river on the banks of which the city is located, escapes here out of the gorge made in Bozdag mountains into Kura-Araz valley. Now the valley of the river is blocked by the hydroelectric dam.
The big Mingachevir reservoir was formed in the place of gorge and large areas of dry fertile lands are irrigated by its waters and convenient ways in different directions were laid instead of former dead end road here.
Polotsk,  situated on the Dvina River,is one of the most ancient cities of Belarus. The city's population is more than 80,000 people.
Cultural achievements of the medieval period include the work of the nun Euphrosyne of Polotsk who built monasteries, transcribed books, promoted literacy and sponsored art as well as  the prolific, original Church Slavonic sermons and writings of Bishop Cyril of Turaw .