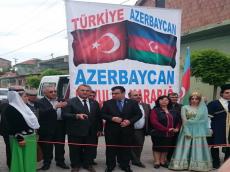 Two main avenues in Davulga municipality, Emirdag region, Eskisehir province, Turkey, have been named Qarabagh and Ganja.
A ceremony held on this occasion was attended by representatives of Davulga general public, Azerbaijanis living and working in Eskisehir, local residents of Qarabagh origin, representatives of non-governmental organizations and media.
In his opening remarks, head of Emirdag Culture and Arts Association Ahmet Urfali said the region was home to 15,000 people of Qarabagh origin. "They are playing an active role in the public and political life of Turkey. At the same time they do not forget their ties to Azerbaijan and preserve their cultural legacy."
Chairman of Davulga municipality Salih Gundogan, of Qabagh origin, hailed Azerbaijan-Turkey brotherhood. "The fact that the two main avenues in Davulga have been named Qarabagh and Ganja, on the one hand, symbolizes unity with the Azerbaijani people, and on the other, shows respect of local people of Qarabagh origin for their ancestors," he said.