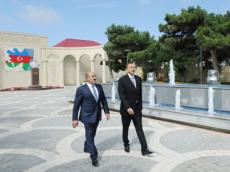 President of Azerbaijan Ilham Aliyev on Friday visited the Heydar Aliyev Park in Badamdar settlement of Baku (Sabail district) after major overhaul and reconstruction.
Head of Executive Power of Sabail district Asif Askerov briefed the President on the ongoing work in the settlement.
President Ilham Aliyev recently visited Badamdar and inspected the work carried out on socio-economic development of Baku and its suburbs. During that visit the residents of the settlement appealed to the President for reconstruction of the Heydar Aliyev Park.
The Head of State gave relevant instructions on renovation of the Park. In accordance with the instructions of the President special project on reconstruction of the park has been developed.
In a short time the Park, which occupies a territory of almost 1 hectare, was restored and reconstructed. The 7000 square meters area of the park has been covered with stone slabs and supplied with modern lighting system. A variety of ornamental shrubs and trees, 4000 square meters of lawn have been planted here. The bust of the national leader of Azerbaijan Heydar Aliyev has been raised here in front of the map of Azerbaijan. A fountain with a backlight was also built here. A special area in the Park is meant for children. The venue has all the necessary conditions for holding various events. As part of the reconstruction neighboring areas have also been landscaped, and streets covered with new asphalt surface.
After touring the Park, President Ilham Aliyev gave relevant instructions.
AzerTAc
/