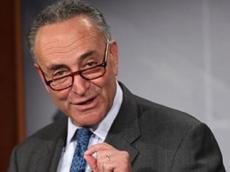 At the conference dedicated to the 20th anniversary of establishment of diplomatic relations between Azerbaijan and the USA, taken place last week in Washington, also was taking part the representative of the State of New York in Senate Chuck Schumer.
The American Senator expressed heartfelt wishes to the Azerbaijani people and the government in connection with the anniversary of establishment of diplomatic relations between the two countries, noting that in the next 20 years the friendship between the United States and Azerbaijan will become stronger.
Senator Schumer stated that he was glad to participate in the action. "I express gratitude to organizers of the conference for the invitation. I would like to greet especially the participants who have arrived from Baku. It is very pleasant to see so numerous and representative delegation. Earlier, talking to the former ambassador of Azerbaijan to the USA Hafiz Pashayev, he reminded me that I was the first person whom he has met in the Capitol. I was the ordinary congressman then. However, he came and had a talk with me. I have highly regarded him. Since then we have established strong friendly relations.
Azerbaijan and the USA are close to each other. We have established strong friendly ties with Azerbaijan. We never forget that you were with us shoulder to shoulder in Iraq, Kosovo and Afghanistan. Azerbaijan is one of few states, which was near to the USA both in difficult and joyful days. We never should forget it.
All of us understand the importance of fight against terrorism. All we understand importance of freedom. Our diplomatic relations were established 20 years ago. I wish that it continued and was long-term.
We celebrate today history of diplomatic relations of two great democracies – the United States and Azerbaijan. I welcome all of you. I hope that relations with Azerbaijan will be steady and unshakable", the Senator underlined.
/
AzerTAc
/