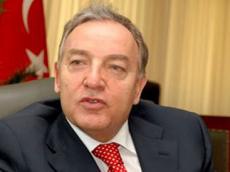 The certificates have been delivered to the individuals at the Turkish Embassy in Azerbaijan today who have actively assisted to the Azerbaijan Red Crescent Society while assisting to earthquake victims in Van last year.
Addressing the meeting, Turkish Ambassador Hulusi Kilic said that Azerbaijan was a country which first assisted after the earthquake in Van.
"A message "You are not alone" was immediately received from the Azerbaijan Red Crescent Society after the earthquake," he said.
Azerbaijan and Turkey proved that they share the sorrow and the joy of each other during an earthquake and the events in the social-political sphere late last year and early this year.
Head of Red Crescent Society Novruz Aslanov spoke about the assistance rendered by Azerbaijan after the earthquake in Van.
"The problems and difficulties that have arisen as a result of the earthquake in Van demonstrated the unity of Azerbaijan and Turkey to the whole world community," he said. "We are proud that many people did their duty by assisting the injured people on the condition of anonymity."
Most donations were made by the State Traffic Police Department, he said.
He said that the Turkish Red Crescent Society greatly assisted to the refugees who were forced to leave the Azerbaijani occupied territories.
The certificates were presented to MPs Eldar Ibrahimov, Eldar Guliyev, Mahir Aslanov, Tahir Suleymanov, Nazim Farajev, Arif Ashrafov, "Azeryolservis" chairman Javid Gurbanov, spokesman for the Azerbaijani Transport Ministry Namig Hasanov, head of the public relations department of the State Traffic Police Department Vagif Asadov and others.
*****
The Red Crescent Society of Azerbaijan has collected and transferred $40,000 for the victims of the earthquake in the Turkish region of Van, in October last year, the head of the society Novruz Aslanov told reporters on Friday.
Aslanov noted that one organization that assisted provide $7,000 and an anonymous person - $5 ,000.
About $40 thousand were collected last year in the frame of "Help Somalia," campaign. But there wasn't such activity during the campaign to help the Philippines, Aslanov added.
The Red Crescent Society has collected more money in 2011compared to previous years, Aslanov said.
/Trend/