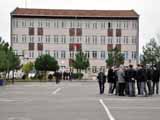 Obscured by debates about the numbers of illegal Armenian migrants in Turkey that are rooted more in fiction than fact, the community is most preoccupied with educating its children, according to a recent study.
Alin Ozinian, who headed the Eurasia Partnership Foundation study, said the research's main goal was to expose social and legal problems facing Armenian migrants, adding that providing education to an estimated 800 children was the community's most pressing worry.
Turkish schools, including ones run by the country's native Armenian community, only admit the children of legally resident guardians, meaning the children of illegal Armenian workers are prevented from attending classes.
Children born in Turkey to illegal Armenian parents are typically left in legal limbo as they can neither receive Turkish citizenship nor acquire an Armenian passport when the parents are forced to stay in Turkey for fear of being refused re-entry should they return to Armenia.
As a result, most of the children spend their time playing on the streets and often become involved in crime.
Although older Armenians attempt to provide the children some education in clandestine schools, the education is largely rudimentary.
Ozinian said the Armenian Patriarchate has proposed a solution to the government but details, at this time, remain vague.
/Tert.am/