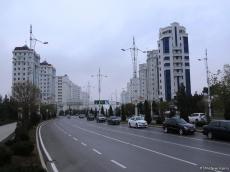 By  Trend
Turkmenistan is taking concrete steps to strengthen the market foundations of real economy along with the measures in other areas in the face of the expected low prices for oil and natural gas, the "Neutral Turkmenistan" newspaper reports.
Particular importance is attached to the improvement of economy's efficiency, especially by strategic fuel and energy industries.
According to the report, Turkmenistan will use the main part of incoming investments to develop production of such expensive products as polyethylene, polypropylene, high-octane gasoline.
A large amount of investments will be directed to development of power industry and food industry that have a great export potential.
Investments will also be used in the development of transportation and communications, construction of the Turkmenbashi international sea port and other projects, which will open the prospects for Turkmenistan's transformation into one of the transport and logistics centers of Eurasia.
Moreover, the projects for an ore-dressing and processing enterprise for production of potash fertilizers in the Lebap province's Garlyk village, a carbamide plant in the Balkan province's Garabogaz city, a gas and chemical complex for production of polyethylene and polypropylene in the Balkan province's Kiyanly village, a steam-gas power plant in the Mary province, a plant for production of gasoline from natural gas in the Ahal province's Ovadan Tepe also serve to the strategic goal of the economy's diversification and innovative development.
Turkmenistan is one of the rich countries for its natural gas resources. According to BP, the country's recoverable reserves are estimated at 17.5 trillion cubic meters of gas or 9 percent of total global reserves, which puts Turkmenistan on the fourth position in this field after Iran, Russia and Qatar. The country has an opportunity to export its gas to China and Iran.