Today.Az

»

Society » Turkic Culture and Heritage Foundation, University of Warsaw ink MoU


24 March 2023 [13:42]

- Today.Az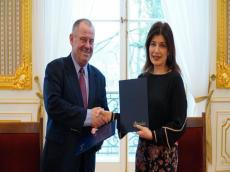 By Azernews
The International Turkic Culture and Heritage Foundation and the University of Warsaw have signed a Memorandum of Understanding in Poland.
Before the signing ceremony, President of the International Turkic Culture and Heritage Foundation Gunay Afandiyeva met with Rector of the University of Warsaw Alojzy Nowak, Azernews reports.
Vice-Rector for cooperation and Personnel issues of the University Sambor Grucza, dean of the Faculty of Oriental Studies Piotr Taracha, an employee of the Department of Turkology and Central Asian Peoples Shahla Kazimova, dean of the Faculty of Oriental Studies of Baku State University Aydan Khandan as well as diplomats of the Azerbaijani Embassy in Poland took part in the meeting.
The meeting highlighted the issues of mutual cooperation between the foundation and Warsaw University in order to promote the cultural heritage of the Turkic peoples.
The sides discussed the holding of joint conferences, seminars, exhibitions, and allocation of scholarship programs for university students conducting research on the Turkic world.
Ideas were exchanged at the University regarding the establishment of the Center for Scientific Research and Study of the Turkic World under the auspices of the foundation.
Gunay Afandiyeva also met with the teaching staff and the students of the Faculty of Turkology of the University and informed them about the foundation's activities to protect, promote and pass on the rich values of Turkic peoples with ancient roots to future generations.
She touched on the main goals of the MoU, signed by the organization with the University of Warsaw, as well as the opportunities created for effective cooperation and future joint projects.
The event was followed by a concert program, where students of the Faculty of Turkology of the University from Turkic states delighted the audience with their performance.
Novruz khonchas and national sweets of Turkic peoples were also presented to the participants of the event.
Initiated in 2012, the Turkic Culture and Heritage Foundation focuses on the preservation of the Turkic heritage in member countries as well as conducting projects in collaboration with partners in third nations.
The foundation provides assistance in the protection, study, and promotion of Turkic culture and heritage through supporting and funding various activities, projects, and programs.
The organization carries out its activities in cooperation with TURKSOY and the Turkic Academy.