Today.Az

»

Society » Caucasus Muslim Board is protests spread of cartoons of Prophet Muhammad


06 February 2006 [03:18]

- Today.Az
Caucasus Muslim Board (CMB) issued a statement protesting the spread of the publication in Europe of cartoons of the Prophet Muhammad.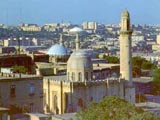 As APA reports, being an integral part of Islamic World, Caucasus Muslims can not bear the affront for religious feelings: "We consider deliberate humiliation of Islamic values in Western Europe, disrespect for the Prophet Muhammad as a real criminality. We think that it is a crime not only against Muslims but also all mankind".
Regarding this as a very harmful act, CMB states that Muslim World, as well as Azerbaijan, respects all religions and their dogmas and symbols: "We would like to believe that religious figures of other religions will protest this step deeply outraged Muslims and will do their utmost to divert the relations among religions to the right direction. It is necessary in order to prevent from safety of our world, maintenance of international stability and inter-civilization standoff. Expressing the will of millions of Muslims in the region, Caucasus Muslim Board request the governments of European countries as well as Denmark, express them its resolute protest and demand that they should apologize to all the Muslims for the harmful fault, take required measures to prevent such cases and hold the culprits accountable. At the same time, we call our Muslim sisters and brothers not to follow such diversions, and show loyalty to high moral values of our holy religion in their every activity".