Today.Az

»

Society » British auction caught in a scandal around a picture allegedly belonging to State Art Museum of Azerbaijan


01 December 2005 [15:29]

- Today.Az
The work "V duxane" by artist Mikhail Larionov allegedly belonging to the State Art Museum of Rustam Mustafayev was sold for 550,000 pounds by "MacDougall's" auction in London. Azerbaijany Ministry of culture claims that it has no idea that this work ever belonged to Azerbaijan.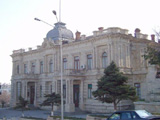 According to the official website of "MacDougals's", the picture dating to 1910 was listed for auction two days ago and was sold for 510,000 pounds. Director of the auction Ekaterina MacDougall stated that, Anthony Petrov - expert on Larionov works, on the basis of the documents sent from the Azerbaijan State Art Museum confirmed the picture to be the original.
The traditional advertising campaign of the auction has started since September, however, the Culture Ministry of Azerbaijan and Azerbaijani Embassy in Great Britain applied to the orginizers to stop the sale of the "V duxane" only 5 days before the sale.
Culture Minister of Azerbaijan Polad Bulbuoglu stated that State Art Museum never possesed this picture and there is only one work - landscape by Larionov (1910) kept in this museum.
Now, when the Azeri State Art Museum denies that it listed this picture for sale and morever that it have ever possesed it, the auction house is trying to confirm once again the picture's originality. If it is confirmed then there will be another question where it came from if it never was owned by the State Art Museum of Azerbaijan.
Trend/EV