Today.Az

»

Society » Vagif Mustafa-Zadeh is commemorated in Brooklyn, NY by a Jazz Music Festival


28 November 2005 [19:31]

- Today.Az
The Jewish Community of Azerbaijan along with the Azerbaijan Society of America presented a very special Jazz Music Festival honoring the memory of outstanding musician and composer Vagif Mustafa-Zadeh. The event, which took place at Baku Palace in Brooklyn, NY on Sunday, November 27.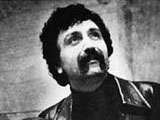 In recognition of the special event, a representative from the office of Marty Markowitz, the Brooklyn Borough President, presented the organizers with an official proclamation naming Sunday, November 27, 2005 Azerbaijani American Friendship Day in Brooklyn, NY.
The afternoon, which was hosted by Oleg Frisch, opened with a presentation of excerpts from the documentary film "Rhythms of Burning Soul" about the life, music and work of Mustafa-Zadeh, which was produced by Azim Sadyhov and written by Rustam Ibragimbekov.
This was followed by a video greeting to the jazz festival by Honored Artist of Azerbaijan Tofik Mirzoev.
The jazz band which played Mustafa-Zadeh's musical compositions was conducted by musicians Ruslan Agababayev, Nikolay Levinovsky, Vladimir Tkalich, King-Bee and Igor Lutsev. Vocalists Tereza Ilizarova and Novruz Mamedov stepped in with some special songs.
It was an exciting afternoon, filled with the wonderful sounds of the music of Vagif Mustafa-Zadeh. It was thrilling to hear these outstanding musicians interpret his work and to see the audience react so enthusiastically. Everyone were proud to be a part of this special event.
The Azerbaijan Society of America is the oldest and leading nationwide non-profit organization dedicated to enhancing knowledge about the Republic of Azerbaijan, the Azerbaijani people, their culture and history.
Day.Az