Today.Az

»

Society » Test your shooting skills in green land Gabala


28 April 2014 [10:05]

- Today.Az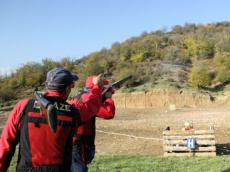 By AzerNews

The blossoming spring with its warm weather and greenery attracts every Azerbaijani to outdoors, especially the guests of the country who are enjoying the nicest season here.

Outdoor activities are diverse in Azerbaijan; from hiking and air sports to cycling, fishing, and hunting.

Despite the fact that the hunting season is not yet open in Azerbaijan, you should not be upset, because you can take a shot at a new sport facility, Gabala Shooting Club, situated in one of the most attractive regions of northern Azerbaijan.

Gabala, which is about 225 km away from the capital city, is a perfect place to spend a few days in. Mountains are covered with soft leaves and rivers are still abundant. This place is also an excellent destination not only for foreigners, but also for locals who want to take some fresh air on weekends.

Situated in this picturesque place, the uncommon facility will first attract you visually. Gabala is an excellent windless place for open-door shooting, with some 340 days of shooting per year.

Sure enough, this club has all the conditions for active leisure and will became a popular place for everyone regardless of their age, gender, interests, or company.

If you decided to spend a day in Gabala, come in the morning, because then you can spend all your day shooting at the club; first, you need to obtain a special card which will bring you profits in time. By the way, the prices are quite reasonable there.

After learning safety instructions, you can start the imaginary hunt accompanied by the instructor.

At present, you can enjoy pistol shooting and trapshooting; children entertainment zone, archery, and airsoft will also be available in the near future. Moreover, the club will also offer night shooting in another month.

In general, the club plans to create tourist tours to Gabala by August, thus making the activity more convenient for tourists.

The club offers entertainment for everyone; it doesn't matter if you are an experienced shooter or a beginner, alone or with friends or family. However, you are advised to visit this club with company, at least to compete in aiming accuracy, and enjoy the sunny day riding golf-buggy at the 52-hectare large territory of the club.

Avid hunters will highly appreciate the arms put on display at the club's store, which is the official distributor of such brands as Armeria Piovanelli, Armi Perazzi, Huglu, Rc, Castellani, and La porte.

Moreover, visitors can bring their own weapons along with their license. The store also offers special clothes and equipment for hunting and fishing.

Those who are against killing animals will certainly like this activity in the fresh mountain air. Twenty or 25 shots a day is advisable for the beginners, so that they don't feel slack the next day.

There's no doubt that after spending a lot of time outdoors, you will soon be as hungry as a hunter. Here again you have a lot of options. You can enjoy your time in the two nearby restaurants, or cook for yourself at the garden houses or on the lawns.

Relishing the day, you can also visit a photo studio to make a commemorative picture dressed in the national dress or as some fairytale hero. You will also be given a printed version of your shooting results as a keepsake.

The photos of the joyous you dressed as Robin Hood, with hopefully accurate results of your shooting, will definitely make your friends look at you with admiration and envy.