Today.Az

»

World news » Turkish armored logistics vehicle 'Derman' makes int'l debut in UK


17 September 2023 [22:50]

- Today.Az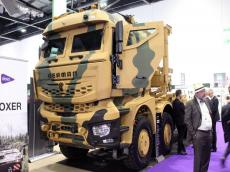 The Turkish Armed Forces (TSK) armored logistics support vehicle DERMAN 8X8, currently in the military's inventory, was displayed abroad for the first time during the Defence and Security Equipment International (DSEI) 2023, an official from the company noted Saturday, Azernews reports, citing Daily Sabah.
Koluman Otomotiv Industry Inc., which produces logistics support vehicles within the Turkish defense industry, showcased the DERMAN 8X8 vehicle at DSEI 2023, one of the world's leading defense industry gatherings held in London.
Zafer Özcan, military projects vice general manager at Koluman Otomotiv, said in an interview with Anadolu Agency (AA) that such exhibitions can sometimes be a turning point in a company's history.
Özcan recalled that the company had signed onto the 8X8 Wheeled Container Carrier Vehicle (DROPS) Project with the Presidency of Defense Industries (SSB) for DERMAN and stated that the Koluman Otomotiv had delivered the first seven vehicles of the 70-vehicle project.
He emphasized that the goal was to first enter the inventory of the TSK and then expand into international markets, saying: "We are happy to have achieved this. The Turkish army is one of NATO's important forces. Therefore, when you go abroad, one of our biggest references becomes the vehicles delivered to the armed forces."
Özcan mentioned that the company has been involved in the defense industry for years and has started positioning itself in the logistics support vehicle segment, especially since 2017.
Elaborating on the aim to develop a vehicle design with high terrain capability, capable of carrying heavy loads, and ideally able to provide services to multiple support vehicles on a common platform, Özcan noted that DERMAN was the result of this development process.
The company also signed a contract with the SSB for armored fuel tankers, named AKTAN, he explained.
With this exhibition, they are embarking on a new journey, and DERMAN's infrastructure, especially its integrated logistics support, its ability to provide the end-user with uninterrupted and full support, and its extensive use of spare parts make it even stronger in international markets.
Özcan said that they would be in Germany one month after the United Kingdom, participating as an Original Equipment Manufacturer (OEM) in an event organized by Daimler.
Highlighting that the plan is to ship all the vehicles of the 70-vehicle DROPS Project in the first quarter of 2024, Özcan noted that one of the biggest goals will be to produce the first prototypes of the armored AKTAN Project.
Regarding DERMAN's export route, Özcan said: "In terms of exports, we have positioned ourselves particularly in the Eastern European market. In recent times, due to certain conflicting situations in neighboring countries, there has been a significant increase in interest in such vehicles."
"We also have conducted various prototype activities with Roketsan for DERMAN. In one of our projects, we have developed a vehicle with a carrying capacity of over 50 tons. We expect to deliver it soon," he explained.