Today.Az

»

World news » Kremlin spokesman says foreign reporters in Russia have nothing to fear if they are not spies


01 April 2023 [20:23]

- Today.Az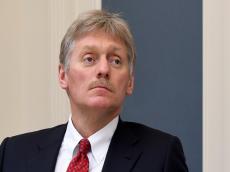 Kremlin spokesman Dmitry Peskov said Friday that foreign reporters have nothing to fear if they are performing their stated duties and do not use their accreditation as a cover.
The comments came at a news conference in Moscow after the arrest Thursday of Wall Street Journal correspondent Evan Gershkovich who Peskov said was caught red-handed while violating the country's laws.
Peskov said "there is no reason" to expel all Russian journalists from Western countries in response to Gershkovich's arrest. "One thing is the violation of the law and going beyond activities, stipulated by legislation. Another -- to restrict the rights of fair journalists. It would be absurd and wrong."
"All foreign journalists who have valid accreditation can and continue their journalistic activities in our country. They do not face any restrictions and work calmly. But in this case, we are talking about activities under the cover of journalistic espionage," he said.
Peskov said he had no details about Gershkovich's affairs but an investigation is being carried out by the Federal Security Service.
Turning to an initiative on sending "troops of peacekeeper kind" to Ukraine -- which is according to Hungarian Prime Minister Viktor Orban, being considered by the EU -- Peskov said it would demand an agreement from both sides and "potentially it is a very dangerous matter."
"This is a statement that is very important to pay attention to. If we are talking about serious spill, then, of course, this is a potentially extremely dangerous discussion," he said.
Commenting on a petition published on the website of Ukraine's president, proposing that the US deploy nuclear weapons in his country, Peskov said "not all petitions, published there (on the presidential website) demand serious attention."
On Thursday, a petition was published on Volodymyr Zelenskyy's website with a proposal to deploy US nuclear weapons in Ukraine or make Ukraine a state with nuclear weapons. If 25,000 people sign in 90 days, the president will have to consider it and give his answer.
Regarding Chinese and Belarusian peace initiatives concerning Ukraine, Peskov said they cannot be implemented due to Ukrainian legislation that stipulates peace talks with Russia is a criminal offense.
Asked about charges against former US President Donald Trump, Peskov: "I don't think this is a topic for any of our comments, these are intra-American processes that we do not consider necessary to comment on in any way."
A grand jury indicted Trump on Thursday on charges related to a "hush money" payment to adult film star Stormy Daniels.
The indictment marks the first time in US history that a current or former president has faced criminal charges.
Trump has long raged against the impending legal action and Manhattan District Attorney Alvin Bragg, who presented evidence to a grand jury.
He has denied any wrongdoing and maintained the case is politically-motivated.