Today.Az

»

World news » Official: Türkiye supports NATO enlargement in principle


01 February 2023 [22:56]

- Today.Az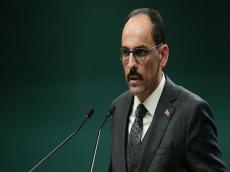 Presidential Spokesperson Ibrahim Kal?n said that Türkiye supports NATO enlargement in principle but told Sweden and Finland from day one that Ankara would not leave provocations unanswered,.
Speaking in a live interview on Tuesday, Kal?n said some provocative incidents that took place in Sweden did not take place in Finland.
"We've told them that there are necessary steps to be taken. Sweden is rewriting its constitution and told us they need time until June," the top presidential aide said, adding that Türkiye is not blocking their membership.
Kal?n also said Türkiye respects Finland and Sweden's decision to proceed together, but if Finland wants to hold a separate process for NATO membership, then it is their decision.
President Recep Tayyip Erdogan recently said that Ankara might approve Finland's NATO membership while withholding approval for the membership of Sweden over ongoing tensions.
Sweden has approved a constitutional amendment that enables it to enact tougher anti-terror laws demanded by Ankara. However, Türkiye suspended NATO talks with Sweden and Finland last week after a protest in Stockholm in which a far-right politician burned a copy of the Quran.