Today.Az

»

Politics » Bush seeks $100 bln for Iraq in 2007


03 February 2007 [00:46]

- Today.Az
President George W. Bush will ask Congress for $99.7 billion for the Iraq and Afghanistan wars for rest of fiscal year 2007 and more than $145 billion for fiscal year 2008, a Bush administration official said on Friday.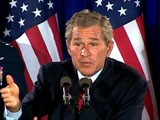 The administration official, who spoke on condition of anonymity, also said that Bush would estimate the costs for the Iraq war at $50 billion for fiscal year 2009. Bush will unveil those numbers when he presents his annual budget to Congress on Monday.
Bush is seeking $145.2 billion in 2008, including $141 billion for the Department of Defense with additional funds sought for the State Department and other agencies for war-related costs.
The nearly $100 billion the Bush administration will request for 2007 is less than the Defense Department had initially requested.
That money comes on top of $70 billion that Congress approved for the current fiscal year, adding up to a total of $170 billion and making it the most expensive year yet for the war.
Bush will submit the request at a time when his plans to dispatch 21,500 additional troops to Iraq have met with strong objections from many Democrats and some Republicans in Congress who are debating a proposed resolution stating their opposition to the troop increase.
The administration also has been under pressure from lawmakers to provide more details about its spending plans for the unpopular Iraq war.
Since the invasion of Iraq in 2003, the administration has funded it primarily through emergency spending bills.
Many lawmakers want that practice stopped and have demanded that Bush incorporate the war requests into the regular budget for the sake of transparency, with some referring to the emergency bills as a "shadow" budget.
The funding requests for Iraq and Afghanistan will be submitted to Congress in the form of two emergency budget "supplementals," one for 2007 and another 2008. But the administration will try meet the concerns of its critics by providing a lot of details about its spending plans in the budget documents. Reuters