Today.Az

»

Politics » Written questions on Plans on "Shusha Liberation" monument in Armenia presented to PACE


19 January 2007 [22:16]

- Today.Az
Member of Azerbaijan's delegation to the PACE, MP Ganira Pashayeva, has presented written questions on Plans on "Shusha Liberation" monument in Armenia to the Committee of Ministers of Parliamentary Assembly of the Council of Europe.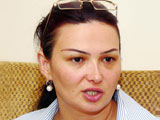 The document reads: "Armenia continues its policy of military occupation of 20% of the internationally-recognized territory of a fellow Council of Europe-member, the Republic of Azerbaijan. The territories occupied include, among others, the region of Nagorno Karabakh where citizens of Azerbaijan of Armenian, Azerbaijani, and other ethnicities used to live prior to the ethnic cleansing pursued by the separatist regime. One of the better-known historical centers of Azerbaijani culture in NK is the town of Shusha, where ethnic Azerbaijanis have always constituted an overwhelming majority of over 90% of the population. All of them have become internally displaced persons since 1992 as a result of Armenian aggression. Now, with an evident purpose of further distorting the reality, yet again misleading the international community, and legalizing status-quo achieved through force of arms, the Armenian side plans to erect a monument commemorating what is termed by Yerevan mayor's office as 'liberation of Shusha.'
Considering all of these facts, Ganira Pashayeva asks the Committee of Ministers:
- What legal and political assessment by the OSCE Minsk Group co-chairs can be requested by the Committee of Ministers for the actions of the Armenian side?
- Which effective steps would the Committee of Ministers undertake through applying its mechanisms of influence on Armenia to stop the project which evidently hampers the ongoing peace process and plays with the feelings of people who have been deprived of homes and normal life for 15 years now?
- Why does the Committee of Ministers refrain from making use of effective mechanisms at its disposal to influence the Government of Armenia to abstain in the future from actions that prevent lasting peace in the region from being achieved, including its continued non-compliance with the PACE Resolution 1416 (2003)?" APA