Today.Az

»

Politics » President Aliyev extends an invitation to Muammar al-Kadafi


02 January 2007 [15:47]

- Today.Az
The Leader of the Revolution Muammar al-Kadafi has received a letter from President of Azerbaijan, Ilham Aliyev in which he extended an invitation to the Leader of the Revolution to visit Azerbaijan.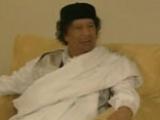 Aliyev affirmed in his letter the interest of his country to promote fruitful cooperation relations between Azerbaijan and Great Jamahiriya.
President of Azerbaijan expressed his conviction in the availability of potentials to upgrade the level of friendship and cooperation and promoting the brotherly ties between the two peoples.
In his letter to the Leader, President Aliyev expressed his satisfaction for the joint coordination between both countries within the framework of international organizations, especially the UN and OIC, praising the just stance of Great Jamahiriya towards Armenia's occupation of part of Azerbaijan's territories, underlining the importance of Great Jamahiriya role in solving this case peacefully. Ljbc.net