Today.Az

»

Politics » Iran lauds Armenia for UN support


28 November 2006 [23:32]

- Today.Az
A visiting high-ranking Iranian official thanked Armenia on Tuesday for supporting his country in the international arena just days after Yerevan refused to join Western powers in condemning Tehran's poor human rights record.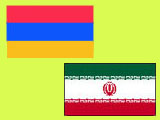 Prime Minister Andranik Markarian's office quoted Iran's Agriculture Minister Mohammad Reza Iskanderi as praising the "balanced position on Iran which Armenia takes in international structures." No further details were reported.
The remarks, made during Iskanderi's talks with Markarian, were apparently prompted by the Armenian vote against a Western-backed resolution that was adopted by the UN General Assembly last Wednesday. It decried continuing human rights abuses in Iran, saying that persecution, torture and even execution of individuals opposed to the ruling regime in Tehran remain widespread.
Neighboring Azerbaijan was also among 47 states that voted against the resolution co-sponsored by the United States, Canada and the European Union.
Armenia also backed an Iranian proposal to remove the issue from the General Assembly agenda. The stance underscored Yerevan's warm political and economic ties with the Islamic Republic, a key element of the Armenian national security doctrine. Armenian leaders have similarly avoided any criticism of Tehran's controversial nuclear program that has drawn serious concern from the West.
Markarian and Iskanderi were reported to note "centuries-old friendly relations" binding Armenia and Iran and express their satisfaction with growing Iranian-Armenian economic cooperation and bilateral energy projects in particular. They pointed to the ongoing construction of a pipeline that will pump Iranian natural gas to Armenia and plans to build a big hydro-electric plant on the Arax river separating the two neighboring nations.
A statement by Markarian's office said the two men also discussed the extremely ambitious idea of building an Armenian-Iranian railway. It did not elaborate. RFE/RL