Today.Az

»

Politics » Sabina Frazer: "International community will not recognize Nagorno Karabakh referendum"


28 November 2006 [15:36]

- Today.Az
International Crisis Group does not intend to publish new reports, because no improvement has been made concerning the situation.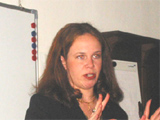 Project director of the International Crisis Group on the Caucasian region Sabina Frazer told the APA Georgian bureau that the group would prepare a report concerning the situation on the region in 2007.
Estimating Azerbaijani and Armenian Presidents' meeting to be held within CIS head of states' summit in Minsk Sabina Frazer said she does not believe important decision will be taken on the settlement of the conflict.
"Presidents Aliyev and Kocharian are not resolute in compromising. They have not prepared the society for the possible compromises. If the problem improves as far as the agreement of principles, the presidents will have to explain the essence of agreement elements and the necessity of compromise to the public," she said.
Sabina Frazer said the statements of both presidents on the conflict do not harm the talks.
"Both parties have different interpretation on the history of Nagorno Karabakh, but I do not think the different views are important. International community recognizes Nagorno Karabakh as part of Azerbaijan, but the talks include the refugees' conditions, economic cooperation and other details," she said.
Touching upon the referendum to be held in the occupied Azerbaijani territories on December 10, Sabina Frazer said that analogous steps are very popular in the Post Soviet countries.
"These may be the results of referendum in Montenegro. But there is no resemblance between the situation there and conflicts in the Post Soviet countries. Because Serbia said in advance that it will recognize the referendum results. So it is clear that international community will not recognize the results of Nagorno Karabakh referendum," Sabina Frazer said.