Today.Az

»

Politics » Isa Gamber: "Azerbaijan Government should offer political and economic support to Georgia"


27 October 2006 [19:49]

- Today.Az
"We witnessed how revolutional and democratic forces came peacefully to power in Georgia in 2003. Their achievements are necessary for Azerbaijan and whole South Caucasus," said Isa Gember, the leader of Musavat Party.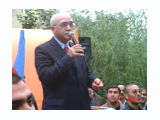 He participated in the International Conference of Liberty, Trade and World-The Regional Agenda of The Day supported by US Caton Institute. The party leader said that there still remain a lot of unsolved problems in Georgia.
"The main problem is the relation with Russia. We observe Russia's attitude toward Georgia's independent policy. I met with the representatives of democratic forces in Tbilisi. But opposition parties in Azerbaijan have limited opportunity to meet with the representatives of foreign governments because of the authority," he told APA Georgia bureau.
Isa Gember also touched upon Azerbaijan-Georgia relations. "Azerbaijan and Georgia are allied countries. I think the countries do not use the whole potential of the relations. Azerbaijan has talks with Georgia on delimitation and demarcation of the borders. I hope that the border between the two countries will be the same as the borders between the countries of EU soon. Azerbaijan should offer political and economic support to Georgia because of Russia's recent policy. Russia's attitude toward Georgia is the attitude toward South Caucasus," he said.
The party leader also spoke about the economic development of Azerbaijan and said that we can achieve the more with our economic potential.